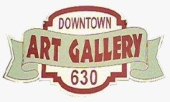 Art:
Contact Info:
Facebook Pages:
Home

---
Artist Tip Of The Month
Abstract Design
Learning to see abstract design gets easier withpractice. Take a 35mm slide mount or 1"x1-1/4" frame and move it over pictures in magazines or your own photographs to find abstract designs. Take the time to draw these designs into your sketchbook. Note what you like about each one: values, colors, and arrangement of shapes, line quality, or directional emphasis. You might also devise designs of your own, arranging geometric shapes or "scribble" designs in you sketchbook. Use these designs as beginnings for experimentation into abstraction. Pick one design and make a color sketch or painting from it. Feel free to experiment with color, texture and line quality while working. Remember that one element must dominate. Continue working with the other designs. This is a great way to express your creativity while learning about abstract design.



Other Tips:
Abstract Art
Abstract Painting
Achieving Depth
Creativity
Elements and Principles of Design
Elements of Light
Finding the Right Subject
Holiday Hints
Knowing the Color Wheel
Making Darks
Painting on a Sunny Day
Painting Still Life
The Color Wheel
Under-paintings
Watercolor Tip
When is a Painting Finished?