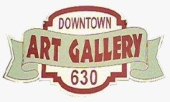 Art:
Contact Info:
Facebook Pages:
Home

---
Artist Tip Of The Month
Achieving Depth
How to create depth in your paintings without using linear perspective:
Create depth with textural changes --- use texture in the foreground or center of interest --- areas without texture recedes into the background.
Chromatic changes --- stronger, clearer colors comes forward --- less intense colors recede into the distance.
Value changes --- values become lighter as they recede. Darker values come forward.
Overlapping shapes --- by overlapping shapes it creates the felling of stepping back into the painting.
Edge changes --- hard edges come forward, soft edges recede.
Color temperature --- warm colors come forward while cool colors recede.
Other Tips:
Abstract Art
Abstract Design
Abstract Painting
Creativity
Elements and Principles of Design
Elements of Light
Finding the Right Subject
Holiday Hints
Knowing the Color Wheel
Making Darks
Painting on a Sunny Day
Painting Still Life
The Color Wheel
Under-paintings
Watercolor Tip
When is a Painting Finished?