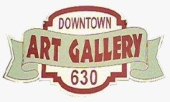 Art:
Contact Info:
Facebook Pages:
Home

---
Artist Tip Of The Month
Abstract Painting
Entering the world of abstract art is a journey most artist eventually take. Do you have a desire to experiment with surfaces? Are you bored with your own painting? Are you searching for a new subject matter, a new approach to your tried and true ideas and themes? If so, perhaps a venture into experimental painting is just the thing you need. Through various techniques, such as rubbings, controlled pouring and blotting, imprinting and layering, you can create unique and exquisite textures, which become subject and content at the same time. The desire to build up layers and textures underlies the spirit of abstract art. Do not ignore the basics of design and color theory if you wish to paint experimentally. To be an experimental painter, you must learn to trust the process of painting. Experimental painting can be a wild and exciting leap into an unknown world, eventually finding the center of your own creativity. The late Robert E. Wood used to say, "Each painting should be a surprise journey with an unexpected ending". This is a good motto for the experimental painter.



Other Tips:
Abstract Art
Abstract Design
Achieving Depth
Creativity
Elements and Principles of Design
Elements of Light
Finding the Right Subject
Holiday Hints
Knowing the Color Wheel
Making Darks
Painting on a Sunny Day
Painting Still Life
The Color Wheel
Under-paintings
Watercolor Tip
When is a Painting Finished?