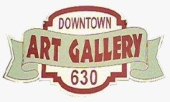 Art:
Contact Info:
Facebook Pages:
Home

---
Artist Tip Of The Month
Watercolor Tip
If you're new to working in watercolor or an old hand at it, here is a way to help you pay attention to values in your paintings. Chose a day of the week when you can just play around with your supplies. Limit yourself to one color -- any color and do a small painting. Next week, do a two-color painting, the third week add another color to the mix. These sessions will teach you what is most basic in your artistic endeavors -- that the number of colors you use is not what matters. What you should pay attention to is value. Limiting the palette is a simplification that allows one's mind to focus on painting, instead of a bewildering array of color.



Other Tips:
Abstract Art
Abstract Design
Abstract Painting
Achieving Depth
Creativity
Elements and Principles of Design
Elements of Light
Finding the Right Subject
Holiday Hints
Knowing the Color Wheel
Making Darks
Painting on a Sunny Day
Painting Still Life
The Color Wheel
Under-paintings
When is a Painting Finished?