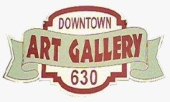 Art:
Contact Info:
Facebook Pages:
Home

---
Artist Tip Of The Month
Abstract Art
If a work of art is described as "abstract" we might imagine that the artist started with a recognizable source or object. He then reduces its appearance into an abstracted form. The object is still recognizable, but not as a realistic item. If art is called "non-objective" or "non-representational" it implies that is has no relationship to objects in nature and rejects the imitation of recognizable form.

Many abstract artists have declared the expression of powerful personal emotions to be crucial to their art. While eliminating or minimizing specific references to natural objects, these individuals have stripped art down to pure expression, evoked in correspondingly pure formal terms. The abstract painter seeks to communicate with the viewer by means of visual language.



Other Tips:
Abstract Design
Abstract Painting
Achieving Depth
Creativity
Elements and Principles of Design
Elements of Light
Finding the Right Subject
Holiday Hints
Knowing the Color Wheel
Making Darks
Painting on a Sunny Day
Painting Still Life
The Color Wheel
Under-paintings
Watercolor Tip
When is a Painting Finished?