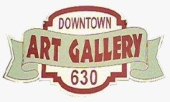 Art:
Contact Info:
Facebook Pages:
Home

---
Artist Tip Of The Month
Creativity
Choose to be creative. Creative people are curious, flexible, persistent, and independent, with a tremendous spirit of adventure and a love of play. Develop and strengthen these traits in yourself and reach your potential as an artist. Almost anyone can become a creative artist. Every human being has creative powers. We were born to create. What it takes is desire, determination, and perseverance. Academic training is useful, but not essential. Many creative artists are self-taught, energized by the desire to create and the willingness to take chances. Creative people relish the discovery of ideas, new directions and challenges. Their belief that there is another wonderful adventure just around the corner is reason enough to continue their pursuit. They approach each new endeavor with this question in mind, "What would happen if?" Following that mind set gives you a place to start your creative journey. Unleash your creative energy and let it flow. Learning and doing cultivate creativity. What you believe you can be is what you will become!



Other Tips:
Abstract Art
Abstract Design
Abstract Painting
Achieving Depth
Elements and Principles of Design
Elements of Light
Finding the Right Subject
Holiday Hints
Knowing the Color Wheel
Making Darks
Painting on a Sunny Day
Painting Still Life
The Color Wheel
Under-paintings
Watercolor Tip
When is a Painting Finished?